What an amazing day! Thanks to everyone who came out to the inaugural Evidence-Based Investing Conference in NYC yesterday, and a special thanks to all of our amazing speakers and generous sponsors. It was an absolutely epic event – everyone was there, I can't even believe the attendee list and speaker roster even a day after the fact.
Below, what I consider to be the highlights – and believe me, it was hard to choose:
The opening panel on the Death of the 60/40 Portfolio (again) was a lot of fun. Larry Swedroe's comments about adding additional non-correlated pieces to the puzzle were very interesting. Greg Collett from the World Gold Council (founder of GLD) stepped onto hostile ground and absolutely held his own.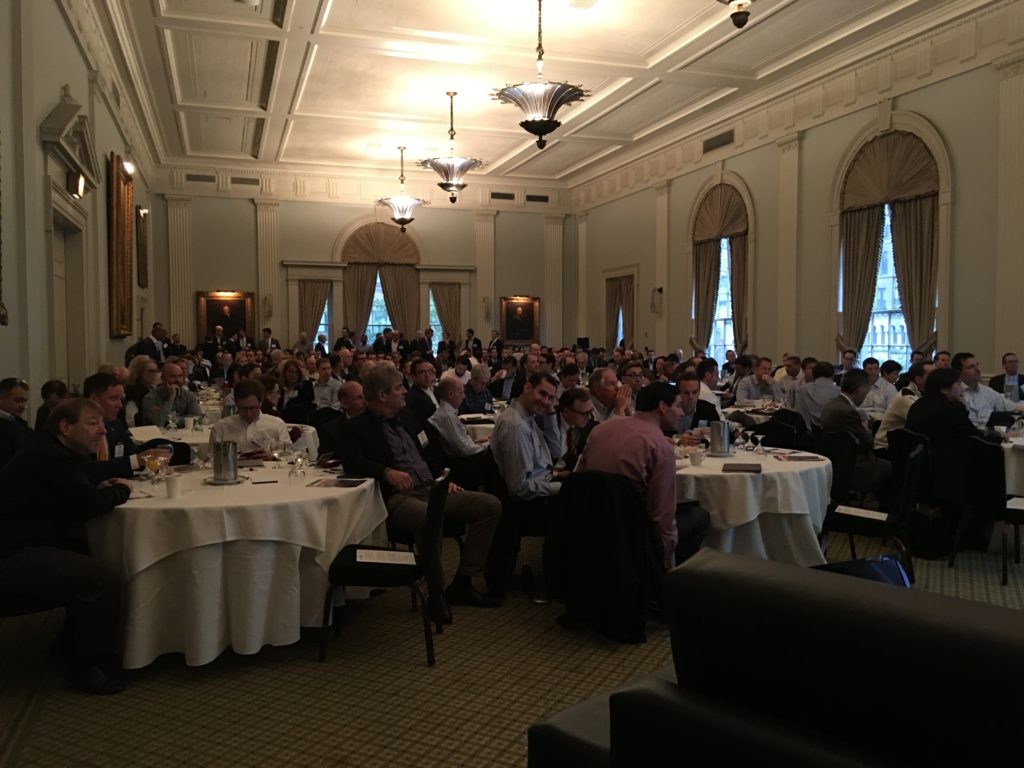 (I was nervous about turnout when we first announced the event. My fears were unfounded. There were over 300 people in attendance and the room was literally overflowing. They had to find more chairs from elsewhere in the building.)
Morgan Housel and Michael Santoli were amazing moderators, as were Anora from MarketWatch and Eric from Bloomberg and all the rest. Ben Carlson moderated two panels geared toward Organizational Alpha and Institutional asset allocation. The questions were great and the conversations flowed freely. Given the sophistication of the audience, we were able to do some very high-level stuff.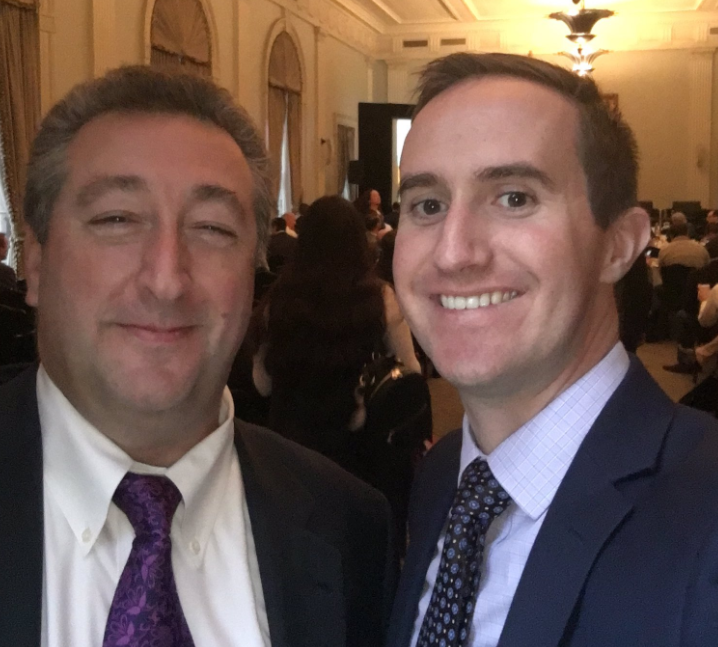 (Barry and Morgan Housel)
One of the best moments of the conference was the "Red Flags" discussion between Jim Chanos and Patrick O'Shaughnessy about how to use evidence to protect a portfolio. The give and take regarding their individual styles (forensic and fundamental vs quantitative) could not have been achieved if not for the preparatory work done by Business Insider's Linette Lopez in advance. We got raves for this panel.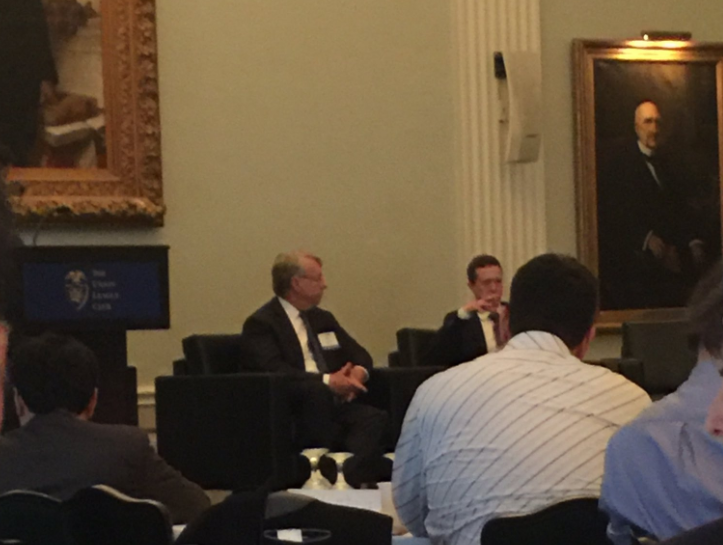 (James Chanos and Patrick O'Shaughnessy gave a master course in red flag detection) 
Meb Faber and Wes Gray were hilarious and insightful together – they should have their own TV show. Having John Rekenthaler on stage with them to round out the discussion (on liquid alts) was absolutely key. There was probably double the amount information presented in this 50-minute segment than I had hoped for.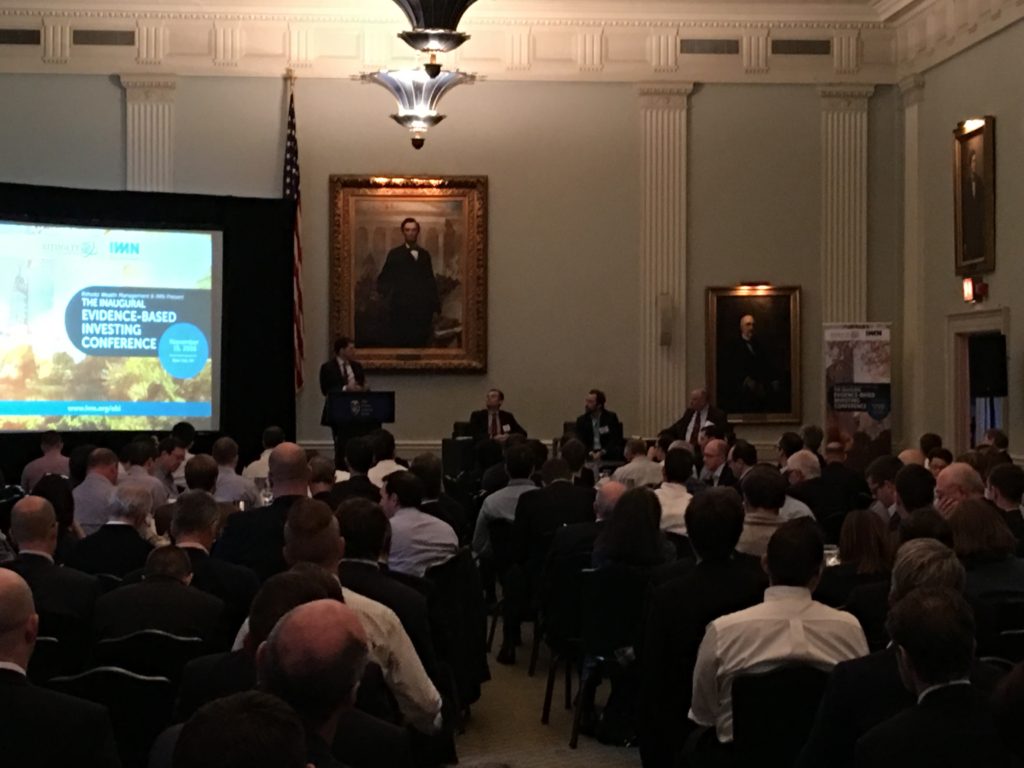 (Michael Santoli with Wes Gray, Meb Faber and John Rekenthaler)
Mike Philbrick of Canada's ReSolve Asset Management and Corey Hoffstein of Newfound Research are stars in the making. A lot more of you should know their names and follow their stuff. They were both a hit with the attendees.
Special thanks to TD Ameritrade for sponsoring lunch and to all of the great companies and organizations who stepped up, including the CFA Institute, State Street and PureFunds. You guys rock.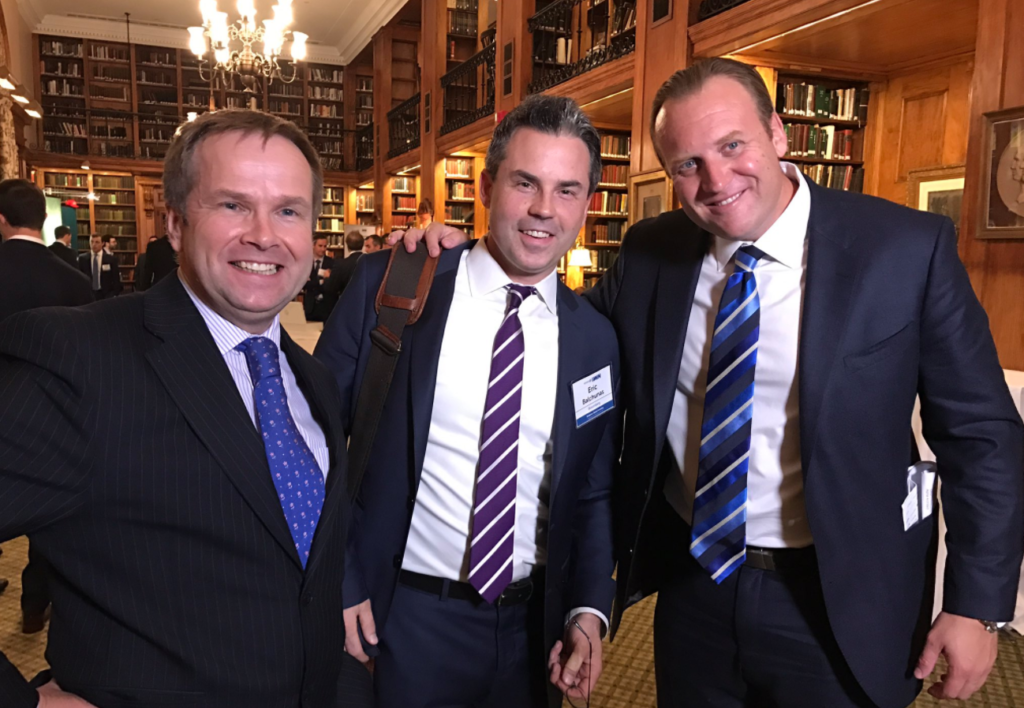 (me with Regus Media's Robin Powell and Bloomberg's Eric Balchunas)
The other segment we got raves for was the Charley Ellis presentation and sit-down with Barry. Ellis is a legend in the investment management world and a really cogent slide presentation on the history of the industry and the state of where things stand now. He's an elder statesmen and a fascinating thinker.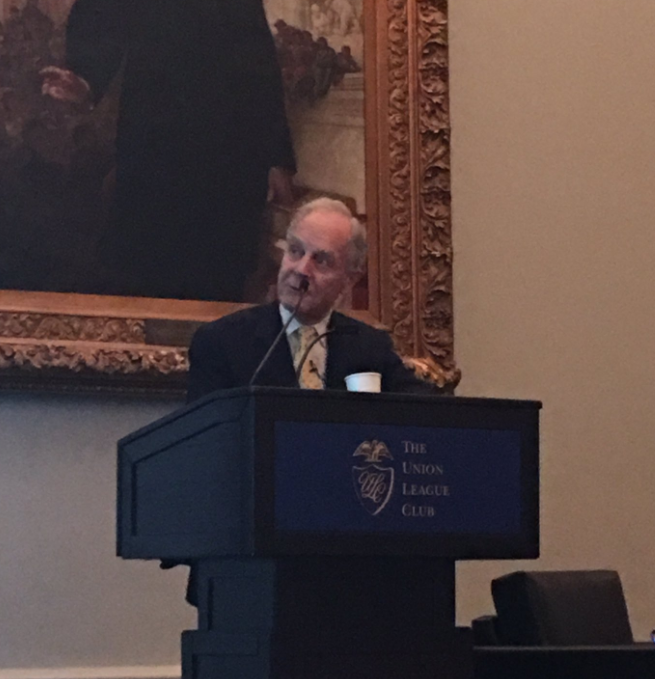 (Charley Ellis of Greenwich Associates – a mind like s steel trap and an incomparable recollection of Wall Street history)
It was really funny to watch the panel that James O'Shaughnessy (another legend of the industry) turn into a Q&A where the other panelists just wanted to pick his brain. James is scary-smart and literally wrote the book on factor investing almost 20 years ago – he was way ahead of his time.
It was fun to introduce Betterment's Dan Egan as "an actual human being" and then watch him do the robot up to the stage.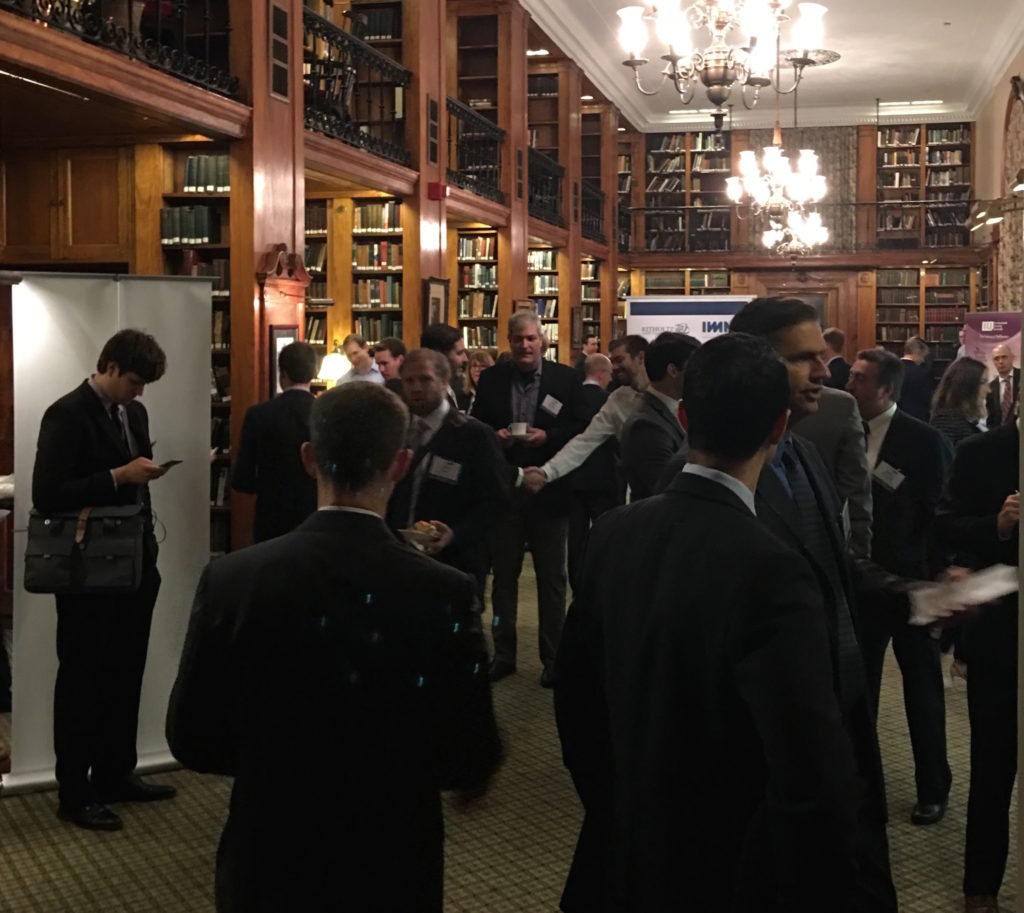 (the Lincoln Library was a fantastic setting for the between-panel networking breaks, Michael Batnick and I were geeking out over some of the 100-year old books we found on the shelves) 
Big thanks to my friends Blair duQuesnay and Tom Brakke for talking about how an investment company or advisory ought to be structured for maximum benefit to the employees, investors and owners. John Bowman of the CFA Institute was also phenomenal on the topic. Everyone was taking notes.
We had Tadas Viskanta (Abnormal Returns) and Paul Hickey (Bespoke) on the stage together – two of the founding bloggers of the financial web. The audience was filled with their fans. Unreal!
The fireside chat between Barry and Vanguard CEO Bill McNabb was epic. I can't believe we were able to get this together. He had a lot to say, including the fact that cyber security is the biggest threat that our markets and financial system currently face.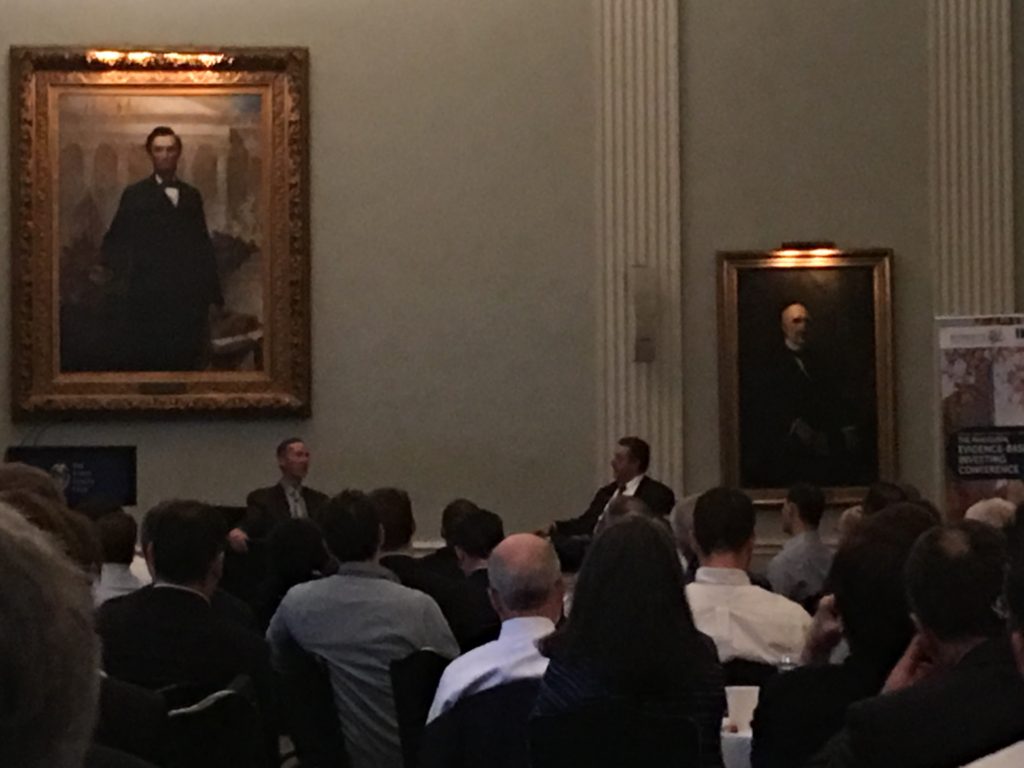 (Barry and Bill McNabb on the Vanguard movement and what the future may hold for systematic investing strategies)
Closing out with Clare Flynn Levy (Essentia Analytics), Apollo Lupescu (VP at Dimensional) and Jeremy Schwartz (CIO of WisdomTree) talking about the limitations of evidence worked perfectly. It was nice to finish on this note of humility and the admission that there is no perfect way to invest, even when we do our best.
The afterparty at Stout NYC was lit. One of my favorite things in the world is meeting my fellow RIA people and hearing their stories. And beer. I also like beer. And chicken fingers.
Anyway, as I mentioned earlier this week, we're under contract to do the next one of these out in California this coming June. It's going to be even bigger. Not sure how we'll be able to top this one in terms of speakers and content, but you know we're going to try!
Thanks again to all for making the EBI Conference a smash hit.