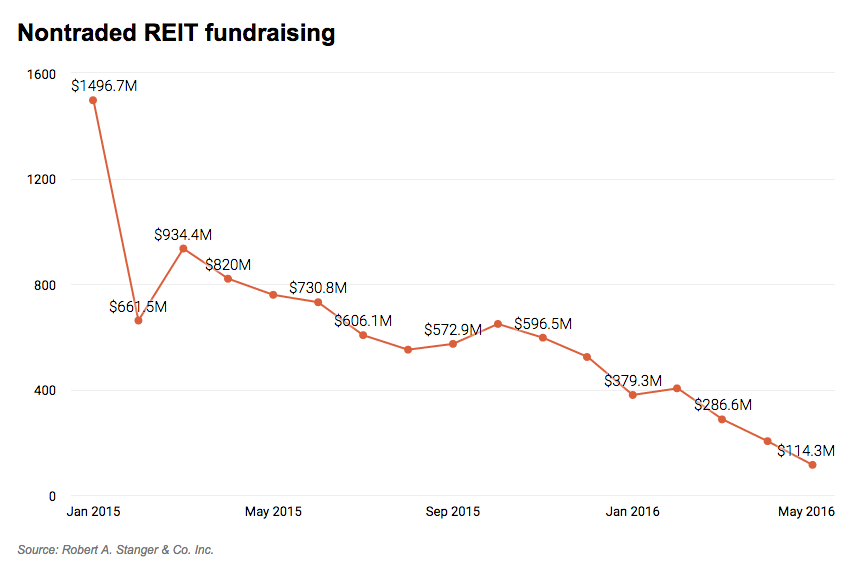 Investment News:
Over the first five months of the year, sales of full-commission REITs, which typically carry a 7% payout to the adviser and 3% commission to the broker-dealer the adviser works for, have dropped a staggering 70.5% when compared with the same period a year earlier, according to Robert A. Stanger & Co. Inc., an investment bank that focuses on nontraded REITs.

Their recent sharp drop in sales is part of a longer cycle. The amount of equity raised, or total sales of nontraded REITs, has been sinking by about $5 billion a year since 2013, when sales hit a high watermark of nearly $20 billion.

Times have changed dramatically. Stanger estimates total nontraded REIT sales in 2016 will reach between $5 billion and $6 billion, or roughly 25% of their level in 2013. That year, former nontraded REIT czar Nicholas Schorsch and his firm, American Realty Capital, were at their zenith, and broker-dealers fattened their bottom lines from REIT commission dollars.
You can only get away with selling poison for so long, before you're unable to replace your dead customers with new ones.
The broker who sells a non-traded REIT to a client, pocketing a 7% commission and a 3% selling concession to his or her firm, is the very opposite of a fiduciary.
Because while this product may be suitable to be sold to an accredited investor, there is no way to then make the statement that it's in the client's best interest to buy it. Publicly-traded REITs, which number in the hundreds, are plentiful and available to any portfolio in search of a RE component. The case can be made that the private REIT product holds properties at cheaper valuations, but by the time you're done paying off the commissions and selling concessions, the net discount to the end investor probably more than get erased.
The notion that a non-traded REIT "reduces portfolio volatility" is a lark – just because a private holding doesn't have a dynamic market quote that changes each day, that doesn't mean it isn't volatile, it just means you don't see it. Your house probably changes value each week, but it's not like it has a ticker symbol in the newspaper.
When the Schorsch Empire went down, that was the end. The third-tier broker-dealer system is now in ruins, there is almost no one left to sell these products. The public has gotten smarter too, they want advice, not products, and they want it at a reasonable price. The regulators demanding a more transparent fee reporting structure was the last straw. How can you possibly show a client that they just bought an investment product from you with a 10% vig built in?
The resulting collapse in interest in this "asset class" should come as no surprise. It's a segment of our business I've been publicly railing against for more than five years (see Why brokers pitch non-traded REITs and Add private REITs to the bonfire).
I send you now to Investment News for the whole story:
Nontraded REIT sales fall off a cliff as industry struggles to adapt (Investment News)