Jon Krinsky dropped a beauty for institutional clients of MKM Partners this weekend, refuting the five most common arguments from the bears for why last week's new record highs represent a market top. Jon is a technician, so if the picture changes, so will his views, but for now he believes traders should be in dip-buying mode rather than playing for a deep pullback.
Below, five common bear arguments and Jon's refutations:
#1: The Market Is Overbought
While the market is overbought on a very short-term basis, longer-term momentum is far from overbought, and monthly MACD is close to giving a bullish crossover.

#2: The Market Is Expensive
While we don't use valuation as part of our analysis, we realize that some may consider the market 'expensive' here. There have been many times throughout the last 60 years, however, when the market was 'expensive' and still had plenty of runway.

#3: Emerging Markets Are Rolling Over
The MSCI Emerging Market Index is up 9.28% YTD, above all of its moving averages, and has the highest percentage of components above their 200 DMA since early 2014.

#4: The Transports Haven't Confirmed
They also didn't confirm in early 1995, until they did. The TRAN Index is up ~25% off its lows, has broken a two-year downtrend, and the cumulative advance-decline line is nearly at an all-time high.

#5: Sentiment Is Frothy
Short-term sentiment is frothy, but longer-term, is far from it, in our view.
Here's how he tackles #4, the transports non-confirmation: It doesn't matter. Or, it doesn't matter yet.
There have been other instances where the Dow Transports negatively diverged from a DJIA bull market and then converged much later. Take 1995, for example, after which the S&P 500 (and Dow Jones Industrials and QQQ's) literally exploded higher for the next four years…
(click to embiggen!)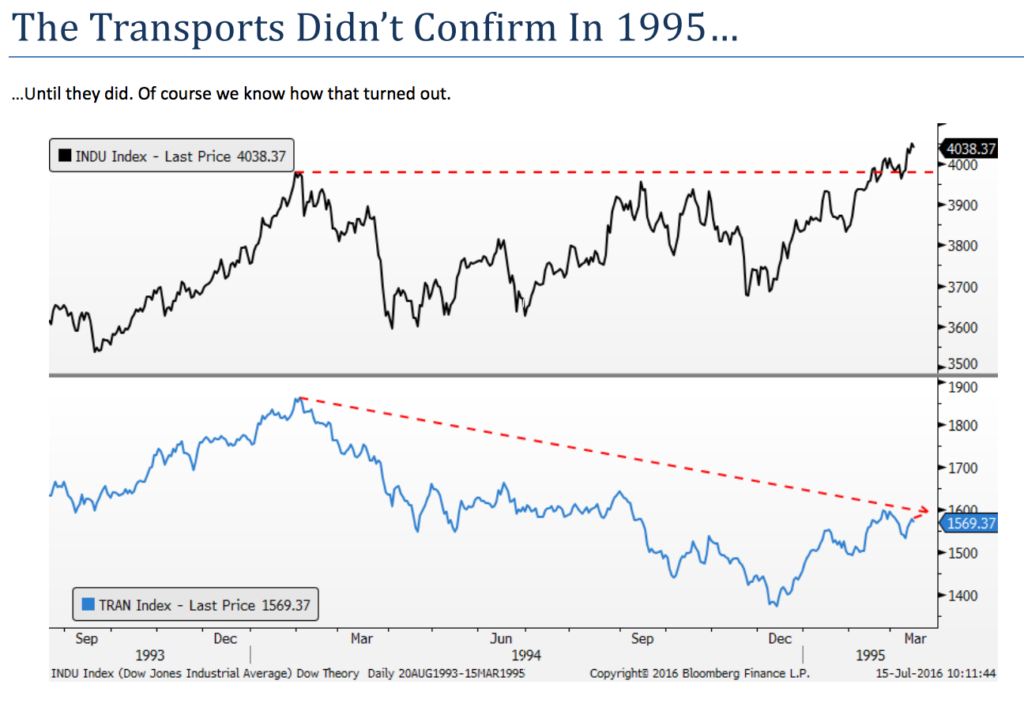 Source:
Five Bearish Arguments… And Our Rebuttal To Them
MKM Partners – July 17th 2016