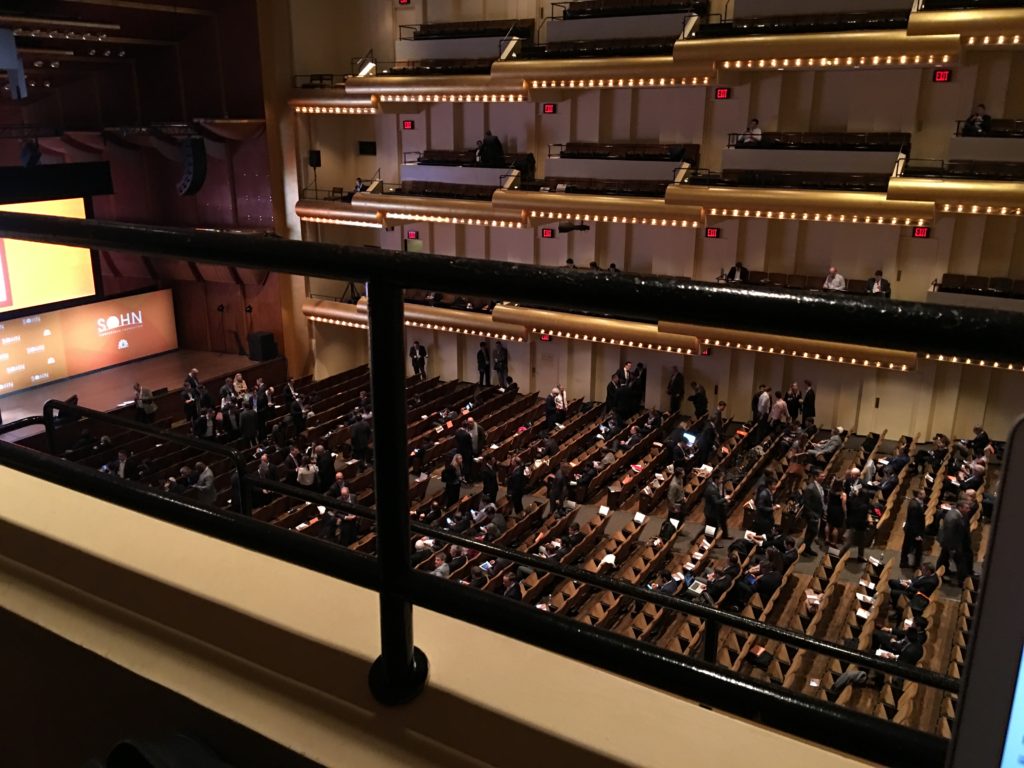 David Geffen Hall at Lincoln Center as the crown files out for intermission. 
I'm live from the 2016 Ira Sohn Investment Conference in New York City. We did our Halftime Report show live from here as well, with Jim Chanos and Carson Block popping on to talk their respective books, so to speak. I missed Larry Robbins this morning, but basically he had no new ideas – just gave a talk about how hedge funds are going to be fine. Larry's probably will, because he's a beast, but not so sure about everyone else's. You can read his thing here at Business Insider.
This will be the first of my three part coverage of the afternoon and evening sessions of the conference.
Anyway, my notes on the presentations below, I'm paraphrasing everything unless in quotations marks. Enjoy!
***
Jeffrey Smith, Managing Member, Chief Executive Officer, and Chief Investment Officer, Starboard Value LP
Jeff has been a director of more than 10 public companies, we're told. Starboard is an activist fund running $5.5 billion, in business for almost 14 years. His firm has replaced 162 board members! You may know him as part of the new campaign to save some Yahoo value for long-suffering shareholders.
DepoMed (DEPO) is his first stock. The main franchise is a of DepoMed is a drug competing with Oxycontin but less prone to abuse.
Jeff is concerned that the company's management doesn't have the experience to take a drug through Phase III trials. Also cites the "alarmingly" high debt the company took on for M&A.
Refers to DepoMed as "sub-scale", meaning they won't make it staying independent. He thinks it's a great takeover target. "Horizon offered to pay a 60% premium at a price of $30 a share." It currently trades at $17. DEPO refused to negotiate and adopted a poison pill, and sued the company to keep them away.
Additionally, management then attempted to sneak through a proposal to move the company from CA to Delaware, throwing in many protective measures to keep the board in place.
"I'm sure they thought no one would read the fine print, and that this would sail through. Not so fast." Starboard has nominated its own slate to replace the board, similarly to what they did at Darden Restaurants (Olive Garden).
It doesn't have to be a fight for his firm to win. He cites the merger of RockTenn and Meadwestvaco into WestRock (WRK) – which Starboard shepherded as shareholders. The combined co is now a giant in cardboard / plastic packaging.
WestRock is a defensive business, with only a 35% payout ratio (dividend is a 4% yield), "there's room for it to go higher." In addition, non-core real estate held by the company could have a value of $1 billion if sold.
This stock is being held down by macro concerns like emerging market economies. These fears are overblown and the company's business is misunderstood. Over 80% of the company's sales come from North America, and the industry continues to consolidate.
There is a spin-off happening next week, which should serve as a catalyst. He thinks the stock could trade to $70 a share over the next year, a double over the current price.
Richard Deitz, Founder, President and Fund Manager, VR Capital Group Ltd.
17 years running his fund. He's pitching Greece, Greek bonds and Greek banks. We all know that "financial issues for Greece are what the 3 point shot is to Steph Curry."
We get a brief history of the recent Greek issues – elections of communists, battles with Germany, etc. There was a meltdown and third bailout, along with the recapitalization that has led to the opportunity Richard sees.
The recap was done under very conservative assumptions. Greek banks were sent to raise new capital from private investors. Prior shareholders were wiped out, and the debtholders became the new shareholders.
Greek bank stocks now trade below where they were prior to the recap.
First catalyst will be the government review process being carried out, which should end soon. The ECB will likely bring Greek bonds into its QE program. Debt relief will be very positive for Greek bonds. He sees the potential for the Greek 10-year to rally 33%.
On the banks, there are multiple factors that will drive these companies' cost of capital lower, while removing many of the fears in the marketplace. He sees profits rising for years as it becomes evident that the banks have become "over-capitalized."
His fave name is Alpha Bank, which I believe trades only in Europe. He lays out a scenario in which Alpha could return 140% over three years.
Stanley Druckenmiller, Chairman and Chief Executive Officer, Duquesne Family Office LLC
Ken Langone comes out to introduce Stanley. Cites the hedge fund manager's penchant for giving a lot back to charity. Druckenmiller is very involved at Memorial Sloan Kettering and on the board.
He's so bearish, you guys. He's making fun of T.I.N.A. – There is no alternative – as a terrible reason to be buying stocks.
He sees the current moment as a mirror image (opposite) of where things stood at the start of his career in the early 80's – high rates coming down and low equity valuations. If that was the greatest time to be buying ahead of a huge bull market, how could today also be, if it's the reverse environment?
"This is the least data dependent Fed in history."
He slams the Fed's willingness to placate the markets, which is fueling recklessness and borrowing from the future. "These guys, they want to spoon feed you what they're going to do, even if its only 25 basis points. And god forbid, the S&P drops, they'll even back off of that."
"The Fed has no endgame. They're obsessed with preventing a 20% drop in the S&P 500."
He points out the divergence between corporate profits and stock prices. "Unprecedented in market history."
M&A and buybacks were $2 trillion last year. R&D / CapEx were less than $1.8 trillion. Over the last three years, CapEx grew only $250 million while buybacks and M&A have grown $750 million. "You can only live off your seedcorn for so long."
He doesn't like China's new $4 trillion stimulus plan either. China's bank assets as a % of GDP growth is off the charts. Credit has grown by the size of an entire Brazilian GDP, per year. With slowing economic growth, this is a toxic cocktail where companies borrow at 10% hoping to earn 15% returns. Ain't happening.
Two years ago, we had the hope that China would take reforms and accept a slowdown. The G7 just talked them into going the other way and juicing stimulus instead.
Goes on a tear about how none of this stimulus is working, and we've borrowed more from our future than at any time in our history. "If the stock market is the future, we should be selling at a discount right now, not a premium."
"Policymakers have no endgame, markets do."
"The conference wants a specific recommendation from me. I guess 'Get out of the stock market' isn't clear enough"

Crowd laughs #sohn2016

— Downtown Josh Brown (@ReformedBroker) May 4, 2016
It all comes down to "Buy gold." That's his investment idea. About halfway down this page, you can read what Druck said about the possibility of a commodity crash back at Sohn 2013 (good call, seriously).
Eli Manning, Sohn-Manning Pediatric Cancer Survivorship Program at Hackensack University Medical Center
Eli comes out and tells a story about his first experience as an 18-year-old football player at Ole Miss visiting sick kids in a cancer hospital. After talking to a mother of a little girl who was there that day, "I realized that it is not what I said during the visit, it was the fact that I was there and that I cared."
Eli has been working to help children with pediatric cancer for the last 17 years since.
***
Stay tuned for Part II, with commentary from Jeffrey Gundlach, Adam Fisher, and more!