A really simple chart that illustrates an incredibly powerful trend.
Emerging markets have been atrocious investments for almost 7 full years now. To me, it's almost entirely a dollar phenomenon. The theory is that strength in emerging market stocks is predicated on one thing: demand for commodities. When China, Korea, Taiwan and India are buying a lot of what Brazil, Russia and South Africa are selling – commodities – then EM works. When they're buying less commodities, EM doesn't work.
And, to a large extent, the dollar's strength or weakness determines the price and maybe even the demand for commodities. I know that could be considered controversial, but I think the missing piece of the puzzle is asset inflows and outflows around the the world and the ability to sell and pay back dollar-denominated debt.
Pretty clear what's been going on here in my chart below, although obviously after the fact. You're looking at the EEM index of emerging market stocks priced in the S&P 500, as a ratio chart.
(click to embiggen!)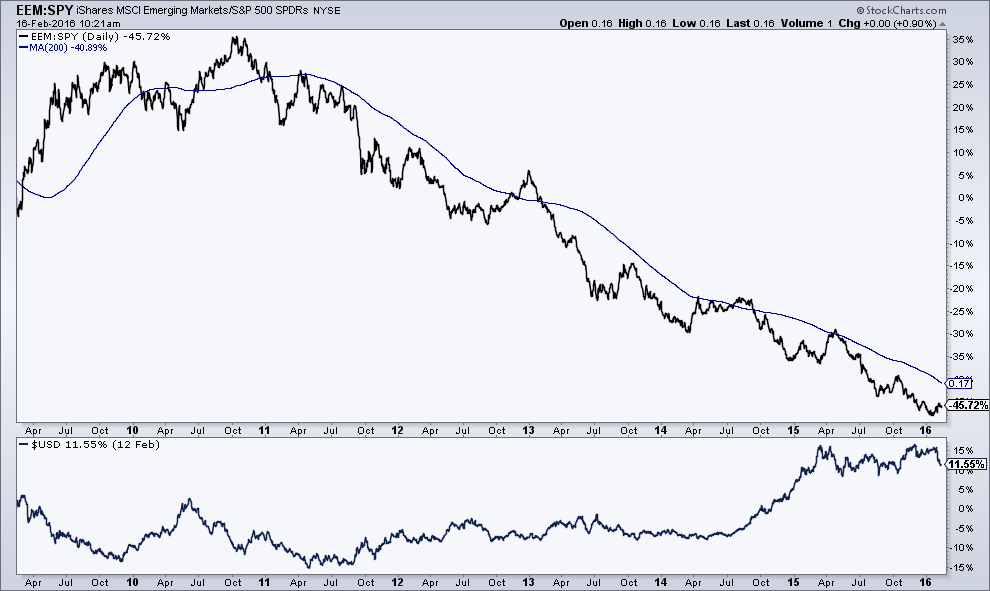 Emerging markets have underperformed by 50% over the last seven years – which is incredible. In the bottom pane, you see the US dollar chart, bottoming out precisely where the EEM:SPY ratio peaks circa 2011. It's been all downhill for emerging stocks and all uphill for the dollar ever since.
When will this powerful trend reverse?
As you can see, there've been several tradeable rallies in EM stocks relative to US stocks over the years – many believe we're in the midst of one now thanks to bouncing oil and metal prices. But it's important to note that every one of these rallies has failed precisely at the downtrend line illustrated above in blue. There's no reason to believe the next one won't fail as well.
Guilty until proven innocent. There are very few prolific counter-trend traders in old age homes.