Alternate title for this post: "Get diversified or die trying"
The New York Times wonders aloud how 50 Cent managed to lose 80% of his net worth since the spring of 2014.
Curtis James Jackson III, better known as the rapper 50 Cent, was worth $240 million in May 2014 and about $50 million last month, according to Wealth-X. The precipitous drop was caused almost entirely by the falling values of four of his companies, with interests ranging from clothing to film production. They declined to $7.2 million from $150 million in 12 months, according to Wealth-X's research.
Mr. Cent managed to underperform even the most horrendous stock sector in the public markets over the last year and half.
Below, a look at the XOP (oil producers), the XLE (S&P 500 energy) and the OIH (oil services companies) since the spring of 2014: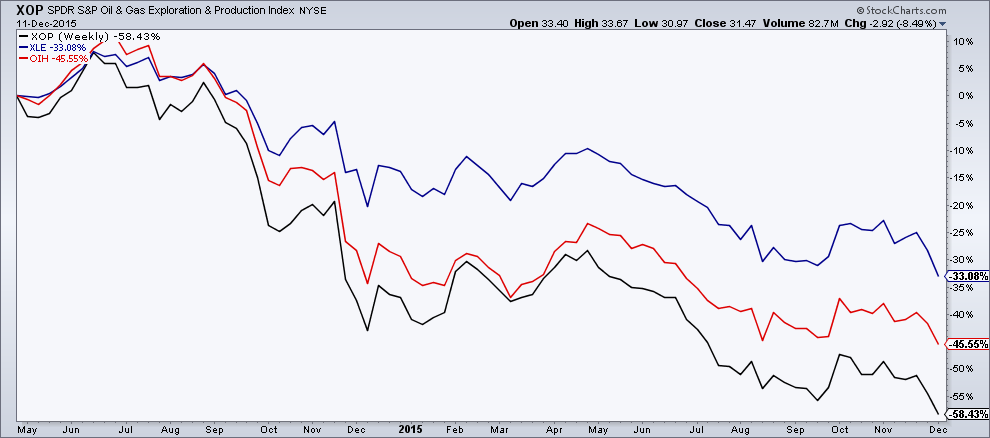 Three possible conclusions we can draw:
The rapper's net worth is being deliberately obscured to protect him from a $7 million lawsuit judgment (very likely)
The rapper is heavily involved in oil & gas investments (highly unlikely)
The rapper needs a better financial advisor than whomever is currently investing for him (slam dunk)
I would volunteer for the job but being a fan of The Game might disqualify me.
Source:
The Bad Fortune of Some Ultrawealthy People (New York Times)