Inflows have returned to the EM stocks this fall, most likely due to financial advisor rebalancing activity, as there isn't a single positive story amongst these countries right now, other than valuation. As Jeffrey Kleintop (Schwab) points out, on a forward PE-basis, EM stocks are now selling at a 10.5 multiple versus the historical average of 13.4 since the index inception in 1988.
Jeff is skeptical that the bounce we've seen in the space is for real. He points out that it's merely a bounce making up for the summer's losses so far.
As you can see in the table below, the rebounds were merely proportional to the losses in each market since the end of April. This suggests the bounce isn't really based on the individual fundamentals of each these markets. Essentially, the harder they fell, the bigger the bounce. Investors may be more discerning in the months ahead.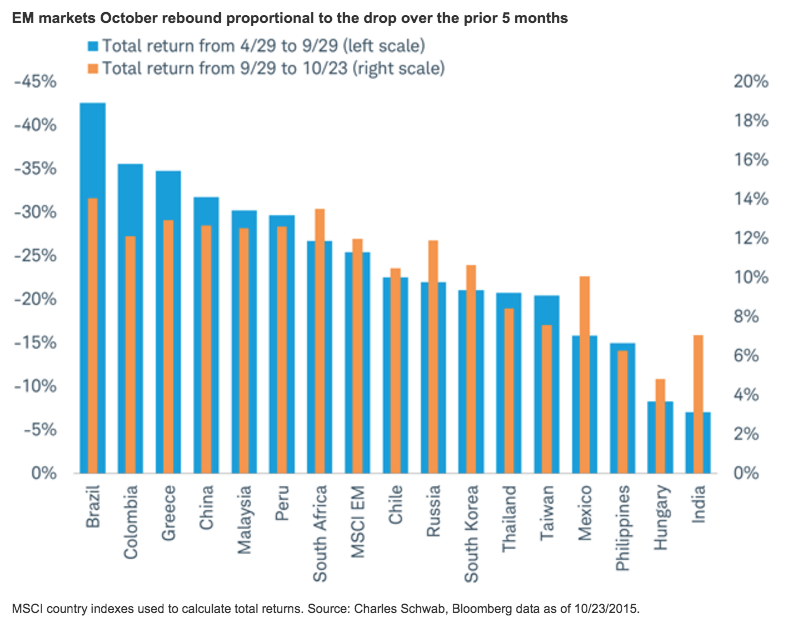 Josh here – my attitude is that it doesn't matter whether they've bottomed or not for the purposes of a long-term portfolio.
No one is going to tap you on the shoulder to give you the head's up when they do bottom and markets move very fast. A bottom may not be obvious until they've made a 50% move off of multi-year lows. It is true that these countries are mostly in awful condition and that they face major risks. With the current valuation discount between developed market equities and emerging market equities, you are being compensated for this reality. Maybe not compensated enough or maybe compensated more than enough, only time will tell.
Kleintop makes the point that "just because they are inexpensive doesn't mean they are bargains." This is true. But good things have a funny way of happening to cheap stocks over time. Lots of potential risks end up not materializing and sometimes positive developments come out of nowhere.
In the meantime, there are many ways to build EM exposure geared toward growthier geographies or consistent dividend growers or however you'd like to orient your position.
Check out Jeff's post at the link below.
Source:
Bargain Hunters Beware: Is the Rally for Real? (Charles Schwab)