I'm out and about all over Long Island / Manhattan this weekend – barbecues, kids' birthdays, hair salon, restaurants, etc. Everywhere I go, people are asking me one question: What the hell happened with Google on Friday?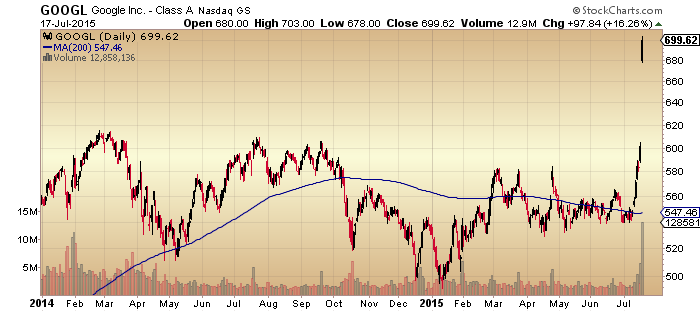 It's been awhile since this many civilians were so interested in the move being made by one stock. I've gotten this question five or six times over the weekend from friends and strangers who know me from the TV show. People look at me funny when I say "I don't know," so I try to say something.
My best guess as to what happened is this:
1. Google's been really spotty on earnings reports over the last few quarters so expectations were really muted going into the release. When the company exceeded prior guidance and then talked about an acceleration in key metrics from Q1 to Q2, the narrative shifted overnight from "Google's done" to "Google's got its momentum back!"
2. People are desperately in search of a megacap tech stock they can buy that has a non-laughable valuation – "Just give me a reason." Google just gave you lots of reasons.
3. Youtube is on fire, regardless of the media's recent infatuation with Facebook's video platform. At the end of the day, Youtube is the de facto host to virtually all quality video content online and it's gotten better and better at monetization. In addition, cost-per-click, which had been declining in recent quarters, may have finally bottomed out. Combine this with enough growth in mobile ads to offset the feared slowdown in desktop search and there was very little to dislike here.
4. It was a summer Friday. Not a lot of people were trading and Google gave them some action to be a part of. Whippy action in individual stocks is one of the hallmarks of this time of year. The phrase "never short a dull market" was probably coined during the July 4th – Labor Day period.
5. CFO Ruth Porat, whom Google recruited out of Morgan Stanley to get the company's expenses under control, led a flawless conference call. This is an executive who knows her Wall Street analyst and buyside audience very well and understands the expectation game better than Larry Page and Eric Schmidt. "Confidence has been restored," says the peanut gallery.
6. Google is now expected to earn over $30 dollars next year. The stock opened for trading just under 700 and hung around that level pretty much into the close. It's not an accident – that's a 20x forward price to earnings ratio – elevated vs the S&P, but with a higher growth rate than the overall market. Google selling for 20x 2016 numbers "just feels right."
7. Google said it now has about $70 billion in cash on its balance sheet – or roughly $100 per share – and yet Porat declined to make any promises about returning any to shareholders. The Street seems to be happy to allow the company to spend on M&A and R&D provided there is an increase in discipline and better communication around what shareholders should expect in the area of expenses. Should the company decide to make like Apple and start returning some of this ocean of cash, it would represent yet another catalyst for upside.
Whether or not Google's results were "enough" to have added $55 billion in market cap in a single day is a subjective issue. The fact is, expectations were low, the stock had been underperforming its peers and the company delivered a great quarter out of the blue. This was the recipe for a monster day.