Earnings season is almost upon us and, for the first time in a long time, the increase in corporate profits we've grown accustomed to will likely not be there. Thanks to falling oil and the strengthening dollar, the S&P 500 is now only expected to notch a 1.1% year-over-year gain as companies report their Q4 numbers to The Street. Five of the S&P 500's ten sectors are expected to show negative growth.
Here's the Wall Street Journal's infographic on current expectations: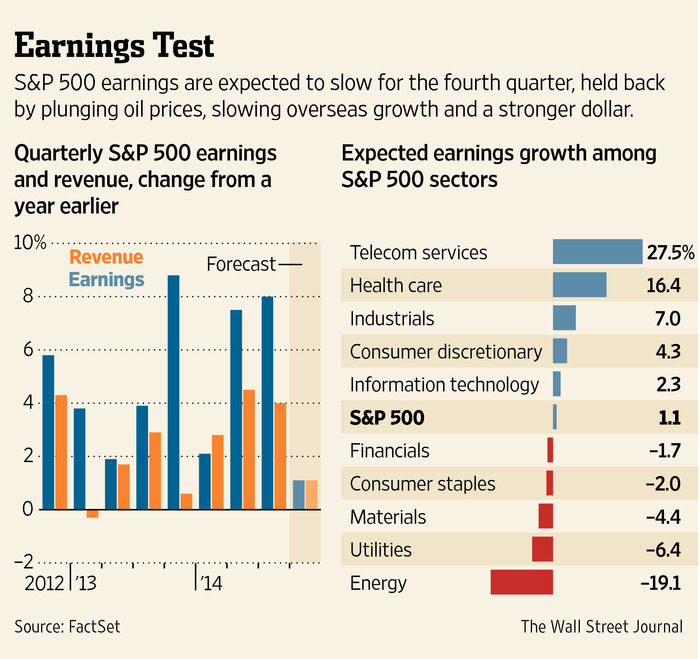 A few things to consider:
1. We've had earnings growth soft patches before – notably in 2010 and 2011 and, while it did lead to heightened volatility, it didn't derail the primary trend.
2. The bigger question is whether or not consumer spending can make up for the drop in earnings from bank net interest margins and energy-related capex spending, both of which may suck in the first half of 2014 given oil prices and rates.
3. Will buybacks continue along and absorb some shocks along the way as they have in past? If estimates continue to see negative revisions, will it matter so long as share counts continue to decrease?
4. On the surface, the slowdown looks nasty, but according to Factset via WSJ, most of the weakness can be attributed to the energy sector, where earnings are expected to be down 19%. Ex-energy stocks, the S&P 500 should still show earnings growth of 3.5% according to current consensus. Not the end of the world.
Some food for thought.
Source: