By now, you've no doubt heard about Twitter's coming-out party last night, in which the company finally reported the game-changing quarter that Wall Street's been waiting for. In its third-ever report as a public company, Twitter blew away the analysts expectations on just about every front, reporting a profit of 2 cents per share versus an expected loss of a penny and $312 million in revenue versus an expected $283 million.
Twitter's Earnings Report: By the Numbers (via Recode, BI, NYT and ValueWalk):
Monthly Active Users: 271 million versus ~267 million expected (based on five analysts polled by Bloomberg)
Q3 revenue guidance: $330-$340 million versus expectations of $324 million
Advertising revenue totaled $277 million, an increase of 129 percent year-over-year.
Mobile advertising revenue was 81 percent of total advertising revenue.
Data licensing and other revenue totaled $35 million, an increase of 90 percent year-over-year.
International revenue totaled $102 million, an increase of 168 percent year-over-year.
International revenue was 33 percent of total revenue.
672 million tweets related to the World Cup sent during the tournament — more than during any other event in its history.
During the Germany-Brazil World Cup game alone: 2 billion tweet impressions off of Twitter plus 4.4 billion impressions on Twitter's owned and operated properties, nearly 6.5 billion total impressions in a single match.
Americans on average refreshed their Twitter feeds 792 times a month during the quarter, down from Q1. Globally, timeline views down 7 percent from a year ago, but up 4 percent from Q1
This report stands in stark contrast to the Q1 report Twitter issued on April 30th, after which the company was pronounced dead (I kid you not) and an illustration of a deceased fail whale being carried to its grave by diseased birds went viral. Remember this?
But now it's all like, "Well hello, Baby Beluga!"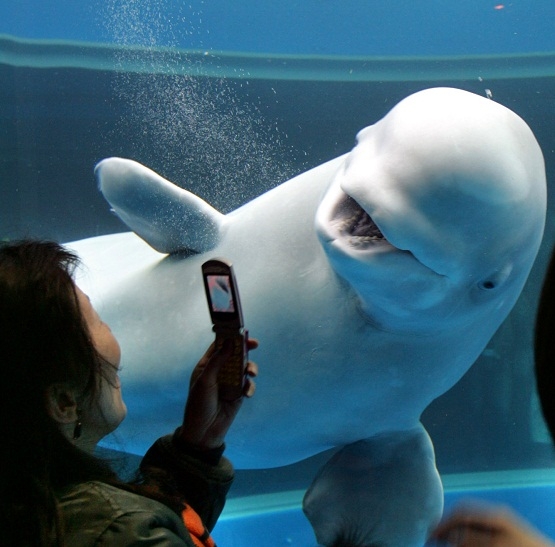 Please click over here to see the whole spectacle of Twitter's supposed funeral here: (TRB)
By the way, Twitter is still not out of the woods, even if it is slated to open 25% higher today, but it is out of Wall Street's doghouse. For now.
This was a very similar set-up to Facebook by the way, which had been cut in half and left for dead after its first few quarters as a public company. But once it clicked and learned to play the expectations game, it was off to the races. Twitter shareholders would be fortunate to see the company follow in that path.
(Disclosure: I currently own shares of Twitter, purchased on the day of the IPO)