In this morning's Equity and Quant Strategy note, Bank of America Merrill Lynch's Savita Subramanian makes the case that not all US stocks have grown more expensive in the first half of this year, despite the S&P's 5% gain. In fact, she believes that the sectors where companies benefit from high interest rates still represent the areas of higher implied upside – whether interest rates rise or not, because of their lower multiples vs the overall market.
P/E expansion not broad-based: 5/10 sectors cheaper vs. 12/31/13
While we often hear concern that the market has grown expensive, our work
continues to suggest otherwise: over half of the valuation metrics we track suggest
the S&P 500 is trading below historical average levels. And
multiple expansion this year has not been broad-based: in fact, just five of the ten
sectors have seen their forward P/E ratios expand, led by Energy (which is still
inexpensive vs. history). In contrast, Tech, Telecom, Discretionary, Industrials and
Health Care have all seen their P/E's contract year-to-date.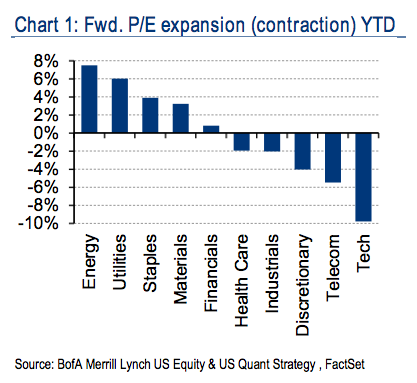 The strategists says that even if rates do not rise in the second half (the firm believes they will), the pain trade would still be higher for the rate-sensitive sectors given what they're being priced for (low growth / low rate environment) at the moment.
Source:
Just in case rates don't rise…
Bank of America Merrill Lynch – June 18th 2014