My pal Andrew Thrasher does a really fantastic weekly technical rundown every Sunday night at his blog AThrasher.com. This week, he put up an interesting chart you probably haven't seen before. Many technicians are torn between the fact that indices have shrugged off the momentum correction beautifully but they are now short-term overbought based on a variety of factors.
In the chart Below, Andrew explains one of these indicators, which you almost never see mentioned…
***
Dow Jones Components Relative to 52-Week Highs and Lows
This is a chart I haven't shown before on the blog. It's something created byDecision Point, and looks at the individual components of the Dow Jones Industrial Average ($DIA) and where they sit relative to their respective 52-week highs and lows. If a Dow component is at a 52-week high then it receives a value of '100,' if it's at the middle of its 52-week high and low then it receives a '50,' and so on. The below indicator takes the average of all 30 Dow stocks.
As you can see, when this figure breaks above 85 we've seen the bulls take a break from driving the train and stock prices see a period of decline. The most recent example of this was at the end of last year before the 6% drop in January. Looking at where we currently stand, on Friday's close the Dow components had an average value of 85%, right at our mean-reversion threshold.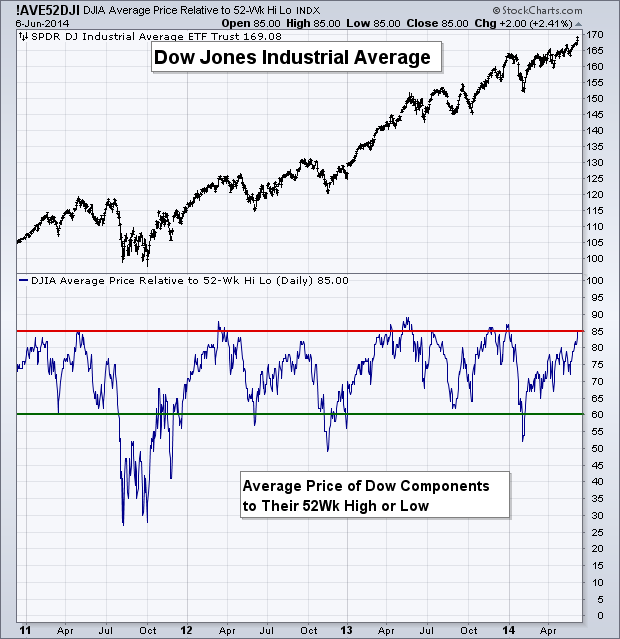 Source:
Weekly Technical Market Outlook (AThrasher)