I'm going to make a very broad point about the nature of investor behavior using a pretty specific example. I hope that you'll consider the infinite ways in which this concept applies to virtually all areas of investing, asset allocation and business in general. People don't change.
I came across this statistic during the week that really took my breath away: In just the first five weeks of 2014, investors have already removed more money from EM mutual funds and ETFs than they pulled out during the entire year 2013.
via Reuters (emphasis mine):
Outflows from emerging market equity funds since the start of this year now exceed those for all of 2013 after investors continued to flee emerging stock and bond funds during the past week, banks said on Friday, citing EPFR Global data.

The Boston-based fund tracker, which releases data late on Thursday to clients, said $6.37 billion had fled emerging equity funds in the week to Feb. 5, while bond funds shed $1.98 billion.

That brings year-to-date equity outflows to $18.6 billion versus a $15.2 billion outflow for the whole of 2013, the data shows. Emerging equity funds have now suffered 15 straight weeks of outflows, a record that beats the previous 14-week losing streak seen in 2002, analysts at Morgan Stanley said.
Josh here – Would you like to know what happened right after that 14-week period of outflows in 2002 referenced by Morgan Stanley? Emerging Markets would go on to outperform smash the MSCI World Index for the next four straight years (chart 1). We're talking 30% average annual returns for the period between 2002 and 2007 with 18% volatility (standard deviation) for the MSCI EM index versus 17% returns and 8% vol for the world at large (chart 2).
Two charts via MSCI Barra: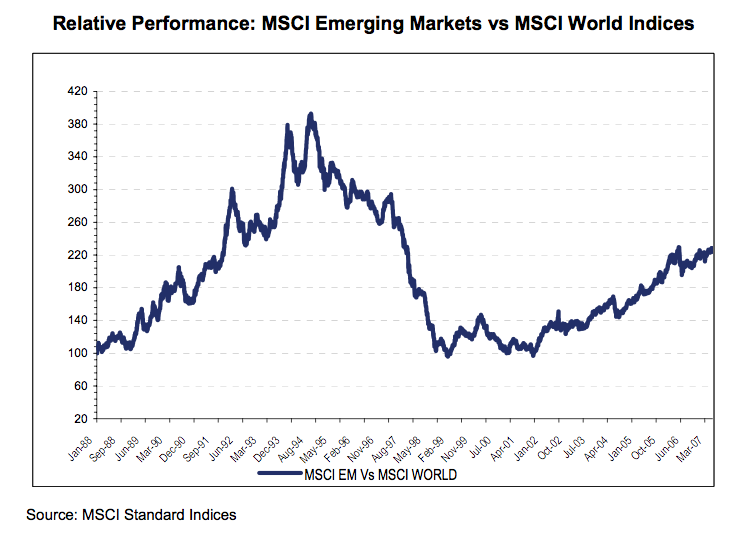 …and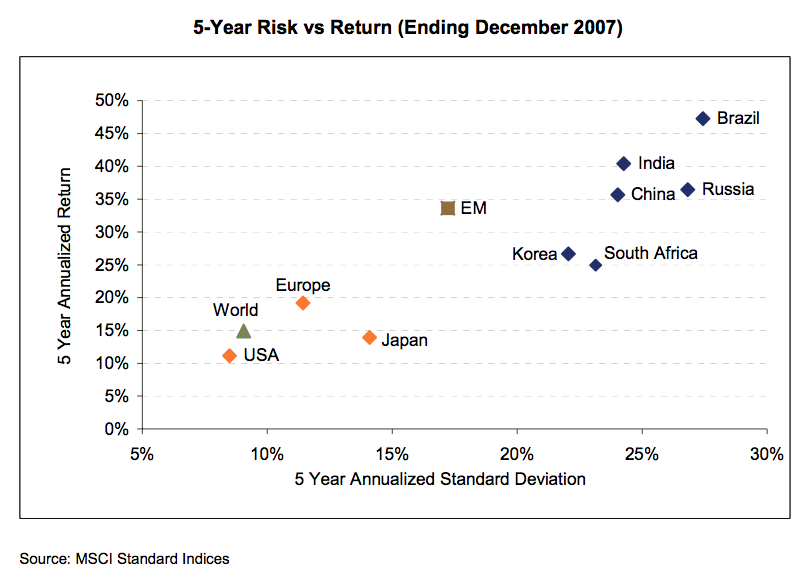 The efficient market guys will tell you that rational investors will allocate based on where the greatest expected returns are and that capital flows will follow value. This is actually the exact opposite of how the markets really work in practice. Over long stretches of time, we can say that money is eventually allocated efficiently – but the journey to get there is where trends and volatility come from. In other words, the efficient market isn't a state of being – it's a verb, a process.
But in the short- to intermediate-term, flows don't follow value, they follow performance. They chase it. Each week witnesses money being thrown at whatever has worked best during the prior week.
As my friend Carl Richards likes to say, "Repeat until broke."
Sources:
Emerging market equity fund outflows this year surpass whole of 2013 -EPFR (Reuters via CNBC)
EM equity outflows already outpace 2013 (fastFT)
Emerging Markets: a 20-Year Perspective – MSCI Barra (PDF)
Read Also: