In keeping with America's lack of commitment to just about anything these days, we've got a retardedly distorted labor regime in place that is a virtual avatar for the national mood.
The number of part-time employees continues to rapidly grow in the context of the overall jobs growth picture. This is indicative of the lack of confidence on the part of the business community. As Scott Minerd, chief investment strategist at Guggenheim, points out, it is also a reaction to concerns over Obamacare.
It's all very "sure, I guess so, come on in and work for a few hours."
Here's Minerd's latest research note with some pretty stark numbers:
Part-Time Jobs Driving Employment Growth

Growth in part-time jobs has been the main contributor in overall employment increases since the start of 2013. Over the past seven months, the average monthly growth in full-time jobs has been 32,000, while the average number of new part-time jobs was 104,000. After falling from the recession peak of 20 percent, the share of total jobs which are part-time has recently rebounded to 19.6 percent. The increase in part-time jobs may be partially attributable to the upcoming change in healthcare laws, requiring employers to provide health insurance to full-time employees but not for part-time workers. If the trend continues, the increasing share of part-time workers may add downward pressure to aggregate labor earnings and reduce consumption growth.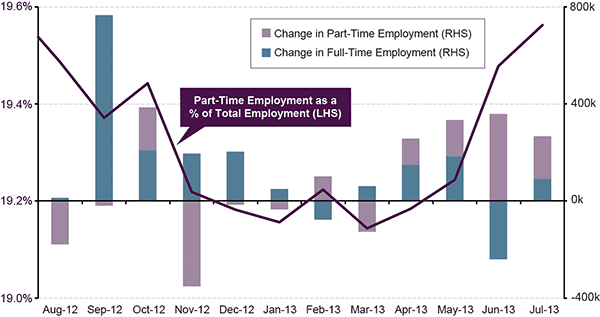 Source:
Guggenheim Investments