The portfolios we run tend to skew toward dividend yield versus high growth; it's a very defensible posture given our mandate, which is to enable people who are already wealthy to retire in comfort and safety. No one is counting on us to discover the next 10,000%-gaining hidden gem, nor do they need us to.
But even if our client base were different, we probably wouldn't change much – the data supports high quality dividend stocks over just about any other approach over long time horizons.
BlackRock's got a run of charts up that make this case very well, here are three important ones:
Dividend Stocks vs Bonds:
equity income has the potential to grow over time. Yes, bonds offer the certainty of a fixed coupon until maturity, but they do not offer the type of inflation-fighting income growth that can be achieved with equities. Notably, S&P 500 dividend increases historically have outpaced the rate of inflation by 1%-1.5%.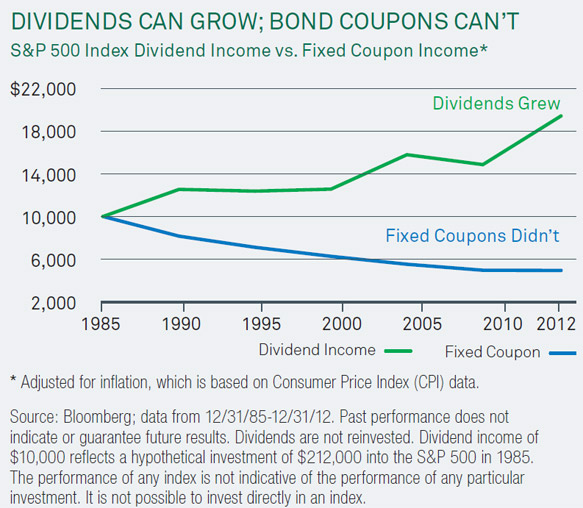 Dividend Stocks Work in Almost Any Situation:
Companies that can pay, sustain or grow their dividends over time tend to be healthier than those that cannot. During tough times, these companies can rely more on the strength of their balance sheets and cash reserves (accrued from operating, financing or investing activities) to maintain positive cash flow and even gain an advantage.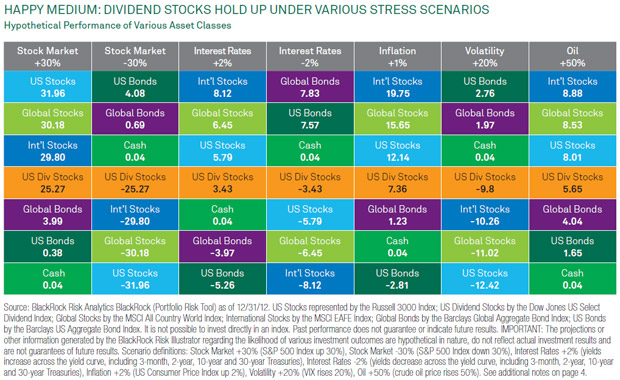 Dividends are the Key to Returns:
The fact is, over time, the majority of investment return comes from dividend growth. A Société Générale study found dividend growth was the single-largest contributor to nominal returns across key developed markets over the past 40 years, providing more return than changes in stock price.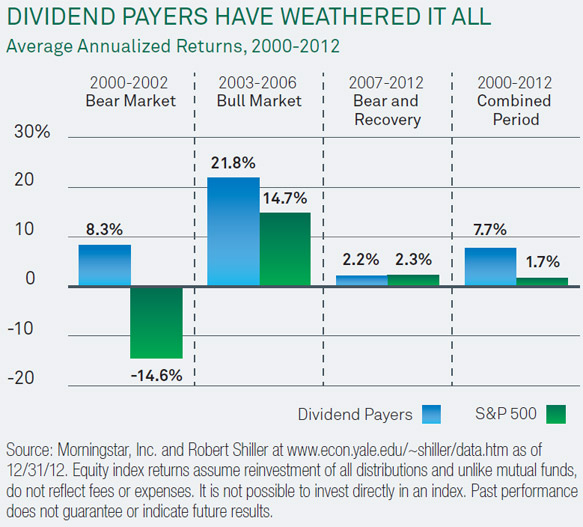 Something to think about in your portfolio's construction…
(past performance blah blah blah, do your homework, assess your own situation etc)
Source: