361 Capital portfolio manager, Blaine Rollins, CFA, previously manager of the Janus Fund, writes a weekly update looking back on major moves, macro-trends and economic data points. The 361 Capital Weekly Research Briefing summarizes the latest market news along with some interesting facts and a touch of humor. 361 Capital is a provider of alternative investment mutual funds, separate accounts, and limited partnerships to institutions, financial intermediaries, and high-net-worth investors.
361 Capital Weekly Research Briefing 
December 17, 2012
Timely perspectives from the 361 Capital research & portfolio management team
Written by Blaine Rollins, CFA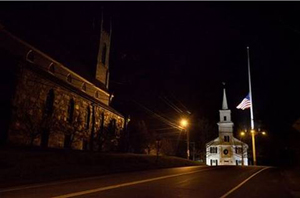 (AP Photo/David Goldman)
While the nation mourned for Newtown, CT over the weekend, the two political leaders continued to work on a fiscal cliff deal…
As of Sunday, President Obama and Rep. Boehner continued to move closer together trading potential tax increases for potential entitlement changes. It looks quite possible that the CBO will be burning the midnight oil this week testing any agreement that is agreed upon. But until a deal is done, the forward looking sentiment and optimism surveys will continue to reflect negative uncertainty like the two series below that were released this week (NFIB & IBD/TIPP). Even Wal-Mart crushed its own stock price 5% this week in throwing up a white flag of caution about its customers being thrown over the fiscal cliff.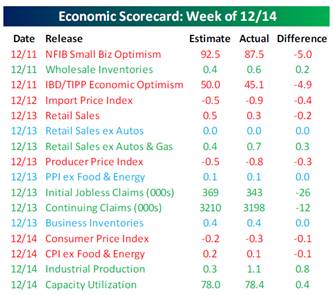 (Bespoke)
Apparently anyone can qualify for an auto loan today…
The chart below tells the graphical story, but talk to any of your auto dealer contacts and they will tell you that banks and finance companies have NO problem lending for an auto loan today because the value of the collateral is so strong. In fact, it is today easier to get a car loan than it is a home mortgage loan. And if you are in the market for a new set of wheels, good luck trying to find a fully loaded, high end car or SUV as any idle inventory in the U.S. is being bought up and shipped overseas (China and Russia seeing the most flow). Hurricane Sandy has only made the hunt for a new set of wheels even worse right now.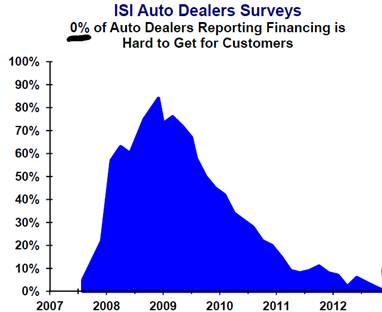 (ISI Group)
If a fiscal cliff framework is assembled this week, look for the U.S. equity markets to rip higher…
Without the cliff to worry about, the U.S. equity markets could surge into year-end helped by:
continued improvement in jobless claims
falling energy prices
appetite for risk continuing in Europe. U.S. junk credit spreads also back to their narrowest levels
extremely healthy corporate balance sheets
a 2 week, +10% move in China's Shanghai index
JPMorgan's Thomas Lee unveils a S&P500 target of 1580 (+11%) for 2013…
"We remain constructive on equity markets into year-end and we are modestly raising our YE 2012 target to 1440 from 1430. The revised target is now 13.1x our 2013E EPS of $110, a modest increase from our previous target P/E multiple of 13.0x. What keeps us constructive into YE is the combination of three things:
incoming economic data is surprising to the upside—witness the latest U.S. jobless claims;
equity investors are overly focused on the cliff (compared to bond markets, which are much less troubled); and
by any empirical measure, equity investors are "underinvested."

The Dow Transports are looking to breakout to higher level…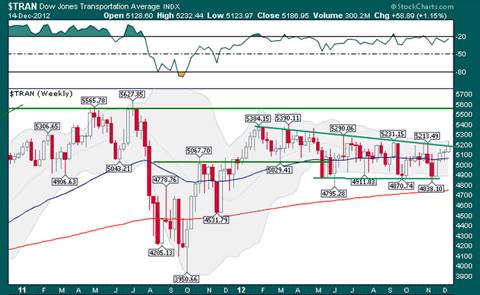 …They can thank rising airline stocks and falling oil prices…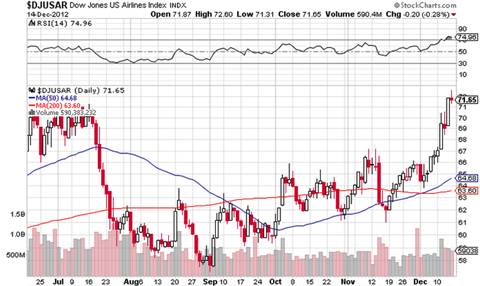 The war over Apple continues with AAPL now 27% off of its high price with many portfolios carrying still hefty allocations into year-end…
On Friday, UBS was the first major house to throw up a yellow flag and cut their price target 10% (to $700) on reduced build rates for the iPhone5 and potential iPad Mini cannibalizing the more expensive iPad. Citigroup followed on Sunday night and you can guess that other firms will start hedging their estimates, targets and ratings as the week goes on. Apple is still a great company and it looks cheap at <10x 2014 earnings. But the problem remains that most everyone owns it in size and many have it as their largest position so as the news gets more difficult, there are few buyers who have remaining stomach lining left to buy additional shares.
A new Apple concern that hit Friday was the price discounting happening at Wal-Mart…
Wal-Mart Stores said on Friday that it began selling Apple flagship iPhone 5 smartphone at a big discount in thousands of its stores. Wal-Mart said it is selling the 16 GB Apple iPhone 5 for $127, versus an original price of $189.97. The price is valid with a two-year contract from wireless carriers Verizon, Sprint and AT&T, the retailer added. Wal-Mart said it is also selling the 16 GB iPhone 4S and the 16 GB iPad with Retina display and WiFi at discounts. (CNBC)
China could be either a significant opportunity or barrier for Apple's iPhone business which is why the stock volatility is so closely tied to any Chinese iPhone5 data point this month…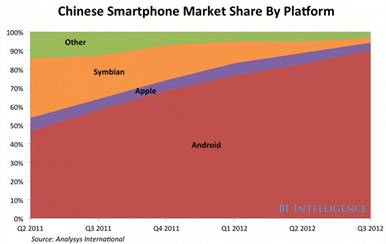 (BusinessInsider)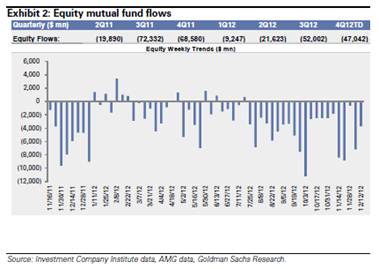 …meanwhile Fidelity tries to fight the trend by lowering its index/passive equity MF fees by 20%…
Fidelity is cutting expense ratios – the amount needed to cover a fund's operations costs – at eight Spartan index funds, in varying amounts. While the reduction is modest for the Spartan 500 Index Advantage shares, the cuts are larger at some other funds. For example, expenses for Investor shares of the Spartan Small Cap Index Fund will fall to 0.30 percent from 0.38 percent, while that fund's Advantage shares will charge 0.16 percent, down from 0.24 percent. (CNBC)
Thoughts from Jamie Dimon, CEO of JPMorgan on compensation…
"We're going to pay people well and competitively. I need to do that for my shareholders," he said. "We all want an equitable society … but what makes it equitable?" Dimon added, in response to a question about general income inequality. "It does not mean that people don't have to pay people what they're worth. If you don't want a free society, then start dictating what compensation could be."
And across the pond, France's most famous actor is "Going Galt"…
Mr. Depardieu is at the center of a controversy in France after the mayor of the Belgian town of Néchin said the actor was moving to his constituency—possibly to pay lower taxes than in France. French Premier Jean-Marc Ayrault last week said it was "pathetic to move to the other side of the border to not pay taxes." In an open letter to Mr. Ayrault in Sunday's edition of French weekly Le Journal du Dimanche, Mr. Depardieu said: "I'm leaving because you think success, creation, talent and anything different should be punished. I am sending you back my passport and social security, which I have never used." (WSJ)
I know that I wasn't the only Dad building Lego's with the kids this weekend. Here is your next challenge…
How many Lego bricks, stacked one on top of the other, would it take to destroy the bottom brick?
The average maximum force the bricks can stand is 4,240N. That's equivalent to a mass of 432kg (950lbs). If you divide that by the mass of a single brick, which is 1.152g, then you get the grand total of bricks a single piece of Lego could support: 375,000. So, 375,000 bricks towering 3.5km (2.17 miles) high is what it would take to break a Lego brick. "That's taller than the highest mountain in Spain. (BBC)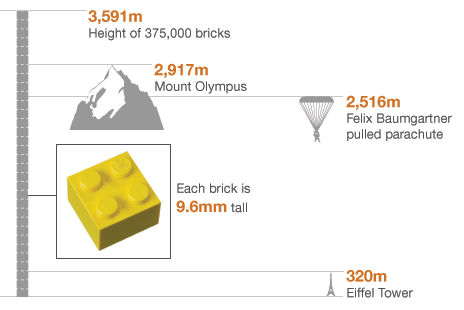 Blaine Rollins, CFA, is managing director, senior portfolio manager and a member of the Investment Committee at 361 Capital. He is responsible for manager due-diligence, investment research, portfolio construction, hedging and trading strategies. Previously Mr. Rollins served as Executive Vice President at Janus Capital Corporation and portfolio manager of the Janus Fund, Janus Balanced Fund, Janus Equity Income Fund, Janus Aspen Growth Portfolio, Janus Advisor Large Cap Growth Fund, and the Janus Triton Fund. A frequent industry speaker, Mr. Rollins earned a Bachelor's degree in Finance from the University of Colorado, and he is a Chartered Financial Analyst.
In the event that you missed a past Research Briefing, here is the archive…
361 Capital Research Briefing Archive