My boss wrote the only no-nonsense investor guide to the election, but before we get there, I also want to share this chart from Goldman Sachs's equity strategy guy David Kostin via Business Insider:
"We expect both rates to rise in 2013 but the election outcome will determine details,"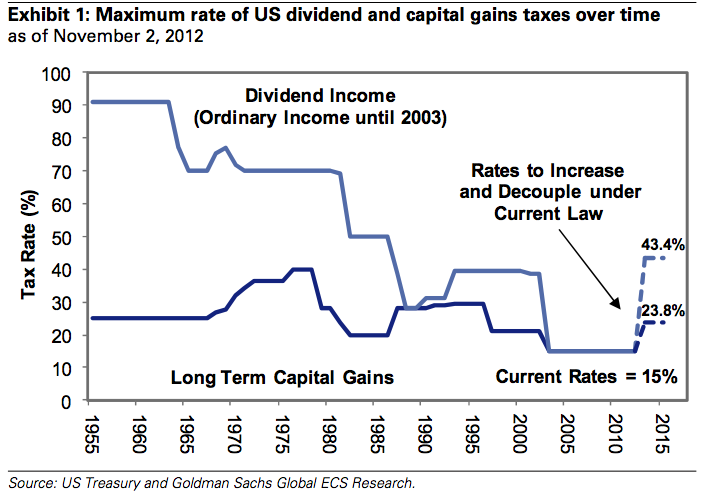 Goldie says the most likely scenario is a 23%ish rate for both (from the current 15%), which would be an upside surprise when all is said and done.
OK, here's Barry:
Every four years, the usual clichés comes out. I suggest you ignore them, and instead focus on the policies that are unambiguously different,  and have very different outcomes.

More specifically, between the policy pronouncements made by candidates Barack Obama and Mitt Romney, what are the key differences in these policies that affect investors directly?

Asked differently, what does the outcome of the Presidential election mean for the investing public? I refer not to things that impact investors indirectly, like estate or income tax brackets; rather, what  are the  specific areas of significant disagreement, where substantial policy differences exist, and where the candidates' different approaches have a meaningful impact on investors.

These include:

1. Sectors: In particular, Energy, Healthcare, Defense Policy
2. Federal Reserve Philosophy and Appointments (re: Interest rate policy)
3. Investment Taxes (Dividend Treatment/Capital Gains Taxes)
4. Regulatory Approach / Legal

Before we begin, a caveat: What the candidates say and what they can and will actually accomplish are often two different things. I have no idea what policies either OObama or Romney as President will manage to get through Congress. What we are looking is the impact of their stated policies if enacted.
Keep Reading:
An Investor's Guide to the Presidential Elections (The Big Picture)
Read Also:
GOLDMAN: Investment Taxes Are Going Up No Matter Who Wins Tomorrow (Business Insider)