I met a few dozen readers out in Los Angeles at an event last Wednesday night, most of them were asset management industry colleagues (and male. Like the bands Primus or Rush, I don't get many female fans at my "shows"  – sad trombone).
But it was awesome, we had a lot of fun and I was glad to meet so many like-minded advisers and analysts who are also truth-seekers and empirically driven in their work.
One of the sharpest guys there, Arman Melikian, followed up with a fairly simple and yet important set of charts his firm uses to detect deterioration in the S&P (through the prism of sharply missed top and bottom-line analyst estimates). The warning system "worked" during the credit crash in so far as these quarterly disappointments picked up steam noticeably in the summer of 2008 and peaked out in September, right when it should have.In addition, the recovery rally coincides perfectly with the disappointment index dropping sharply – meaning estimates had already been slashed at the bottom to levels way lower than they needed to be. Stocks reacted positively to better-than-expected, off this extremely low base.
It is notable that we are seeing the same kind of uptick in corporate profit and sales misses here in Q3 2012, despite how much "liquidity" is once again flooding the financial system…
From McComsey Asset Management:
With 153 S&P500 members having reported thus far, we are observing earnings and revenue miss rates that are approaching levels last seen during the September 2008 quarter.  We continue to execute our hedging strategy to protect capital during unfavorable earnings environments.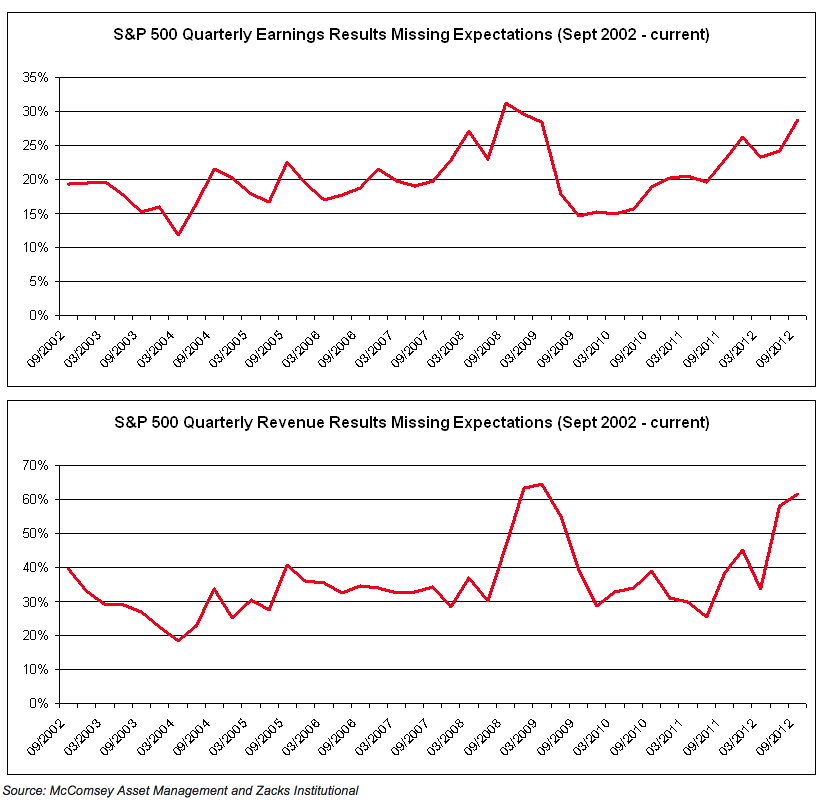 Source: