Your boy's going to be on CNBC's Closing Bell program today at 3pm and then 4pm talking about whether or not the rally is sustainable.
One thing we know to look at when trying to determine the sustainability of a given trend is participation – how many stocks are making new highs (or lows).  This is not a fool-proof indicator (no such thing) but it is a damn good one, it's the one that would have taken you out of the market in late 2007 as indices advanced with less and less winners moving the chains.
You'll note that this particular rally has already seen a peak of new 52-week highs versus new 52-week lows across all the major exchanges weeks ago in the chart below: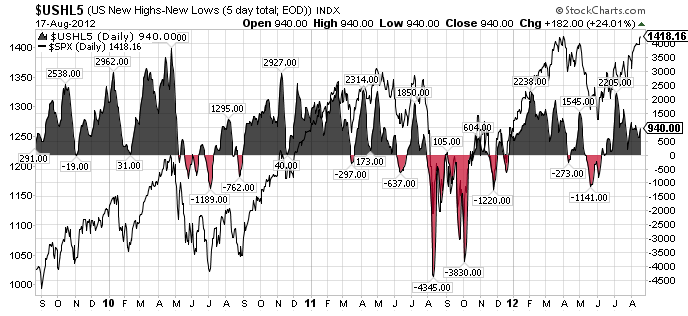 What you don't want to see is an advance wholly made up of $AAPL while less and less stocks make highs.  This would be a divergence that would tell you to trim positions the longer it continues.  I'm showing you a weekly because we are investors more than traders and we tend to look at these things in broader timeframes.
See ya later.