Real GDP came out for Q2 this morning and we saw a growth rate of 1.5% from the reading.  This is obviously ass.
Here's the Washington Post:
The economy grew at an annual rate of 1.5 percent from April through June, the Commerce Department reported Friday, a pace that confirmed fears that the economy continues to sputter.

A Growth rate below 2 percent isn't enough to lower the unemployment rate, which was 8.2 percent last month. And few analysts expect the economy to gain momentum in the second half of the year, as concern about debt problems in Europe and the fiscal cliff—a series of tax increases and spending cuts due to take effect in January unless policy makers find an alternative—dampen confidence.

The estimated rate of economic growth in the second quarter marked the weakest quarterly GDP growth since last fall and promises to sharpen the scrutiny on the President Obama's fiscal policies.
Let's take a peek at consumer sentiment via Econoday:
Consumer spirits are flat, reflected in the Reuters/University of Michigan's consumer sentiment index which finished July at 72.3 for a marginal 3 tenth gain from mid-month and a 9 tenths decline from June. The best news is in the assessment of current conditions where the index is at 82.7 which is down 5 tenths from mid-month but up 1.2 points from June. This reading hints at steady readings for July's data related to the consumer including jobs and spending.

The outlook, however, is deteriorating but only slightly with the expectations index at 65.6 which his up 8 tenths from mid-month but down 2.2 points from June. Lack of confidence is also reflected in the 12-month outlook where the index is at 74 vs 77 at mid-month and June's 79.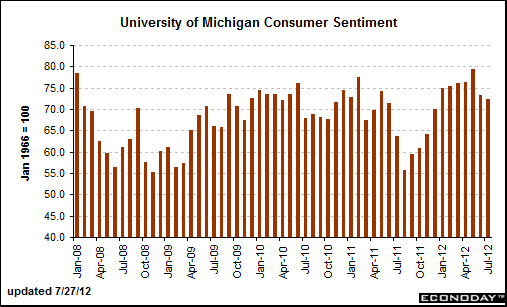 Sources: