My friend Matt Nesto just tweeted a link to an interview he did with Scott Schermerhorn of the Granite Value Fund.  Scott is a smart guy, offers some good definitions and also looks adorable in his value investor costume (beard, glasses, bow tie – it's perfect).
They did the so-called "age old debate" between growth and value investing.  My take is that this differential matters a lot more for the managers themselves than it should for investors.  If you are a stock picker, you should be able to iterate your style and the metrics that matter to you – typically this is done in either a value- or growth-oriented fashion.
But as for returns, most investors should tune the whole thing out.  In a bull market growth stocks may lead and in a bear market value stocks may have an edge – but given enough time they even out against each other, so why concentrate on something that time itself will negate for you?
The chart below is Value vs Growth in large caps (using $IVE vs $IVW) since the March 2009 stock market bottom – you can see some periods where growth had the edge and some where value took the lead, but seriously, there's no debate to be had here…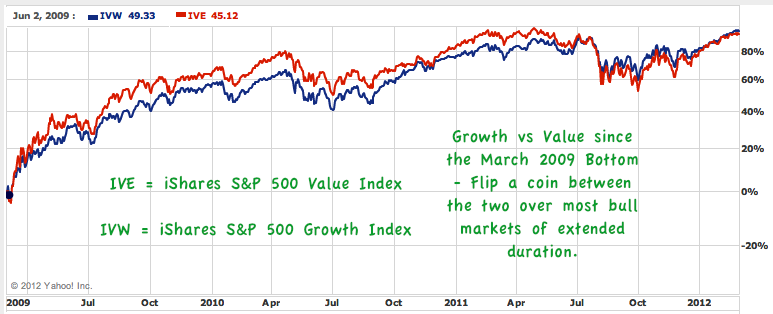 So of all the variables you worry about when constructing and monitoring a portfolio, unless you're a professional and competing over months and quarters, the growth vs value thing shouldn't be high on the list.