This morning I find myself only moderately allocated toward equities in core accounts and "full retard long" in tactical accounts (double Russell, double midcaps etc).  I probably don't have enough growth stocks or cyclicals overall but this can be adjusted as the spring wears on.
All in all, the data looks better, is better and "feels" better.
"January ISM non-manufacturing PMI comes in at 56.8, up from December's 53.0 reading" – That's a positive.
"The 243,000 increase in payrolls was the most since April and exceeded all forecasts in a Bloomberg News survey…the unemployment rate dropped to 8.3 percent, the lowest since February 2009" – That's a positive.
We're 20 points away from the 2011 DJIA highs and only a couple of percent away from the S&P 500's 2011 highs.
Everyone's playing today except the defensive Utilities sector – healthcare is also taking a breather…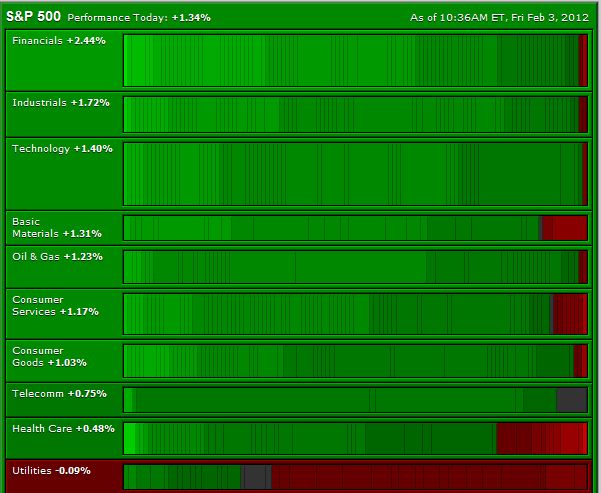 Have fun…but not too much fun.  Greek bond bullshit is sure to dominate the weekend's headlines for a change.