File this under: New Normal, The
Used car sales exploded in July, up 13.5% year-over-year – the best July since 2005.
In a time of persistently high unemployment, low consumer confidence and tight lending, this trade has been a no-brainer.  Below is a research note my firm put out on the sector last week.  Based on our quantitative work, this is and has been one of the best-looking sub sectors in the market for awhile now, see my firm's PM Kevin Lane's commentary below:
Very rarely does something bubble up to the surface and grab your attention as plain as the nose on your face. However when I was reviewing our daily short squeeze list it was impossible not to notice that the first three issues on the list were all auto dealerships – Group 1 Automotive (GPI), Penske Auto Group (PAG) and Asbury Automotive Group (ABG). All three handily bested earnings estimates and reported unusually strong results. A common theme across all three reports was strong used car sales, which makes a lot of sense given the current economic climate.

FusionIQ Ranks for GPI, PAG and ABG:

• Penske Automotive Group ($PAG): Combined Master IQ Rank – 91 out of 100

• Asbury Motor Group ($ABG): Combined Master IQ Rank – 90 out of 100

• Group 1 Automotive ($GPI): Combined Master IQ Rank – 82 out of 100

All three may have to consolidate gains or pullback a bit to work off short term oversold conditions after yesterday's price spike, however given the robust quarter we would suggest shares may not pull back to much. Group 1 Automotive (GPI) is our favorite technical set up in the group.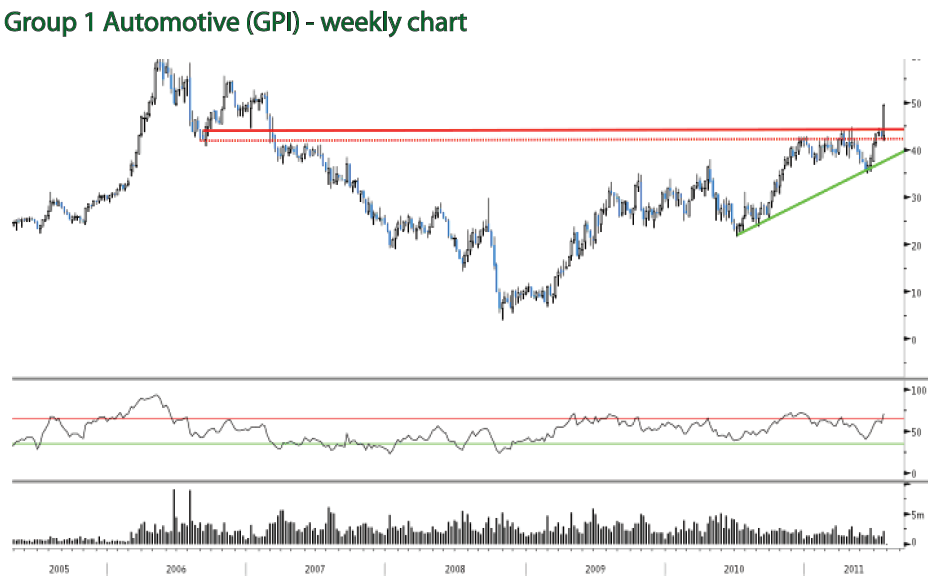 Note: The above commentary has been previously disseminated to Fusion clients and should not be construed as a recommendation or solicitation to buy or sell any securities, it is for informational purposes only.