Below is a trading idea that my firm's PM, Kevin Lane, put out this morning.  Full Disclosure – We bought the stock for certain client accounts as well.  Please do not consider the below to be individually-tailored investment advice or a solicitation to buy or sell any securities.  Here's Kevin:
***
As seen on this weekly chart below GE shares built a nice base in the $ 18.00 to $ 18.50 area (red lines).   Shares have recently tested the upper end of that range twice in the last four weeks and bounced off nicely.  They are now trying to take out some downtrend lines (green lines) on the heels of a good quarter.  GE posted second-quarter earnings that beat analysts' estimates, buoyed by its finance unit, as the industrial order backlog rose to a record.  Profit from continuing operations climbed 18 percent to $3.73 billion, or 34 cents a share, from $3.15 billion or 29 cents, excluding pension costs.  Chief Executive Officer Jeffrey Immelt has said losses have peaked at GE Capital, and the unit is writing more profitable loans.
The company's total backlog, a measure of future industrial growth, rose 6.8 percent to a record $189 billion.   With the technicals improving, a good quarter and the average analyst target still 25.00% above current prices we would suggest GE is a prudent buy in and around these level with an upside target of $ 24.00.  Only a move below $ 18.00 would turn this picture negative.
Other highlights:
Equipment orders gained 33% as GE introduces more efficient wind and gas turbines, and service orders climbed 16 percent.
Infrastructure orders increased 24 %.
Revenue of $35.6 billion topped analysts' estimates of $34.7 billion after a majority of the NBC Universal media division was sold in January.
Expects to see solid double-digit operating earnings growth for the year, and are confident in our total-year framework for both earnings and cash flow from operations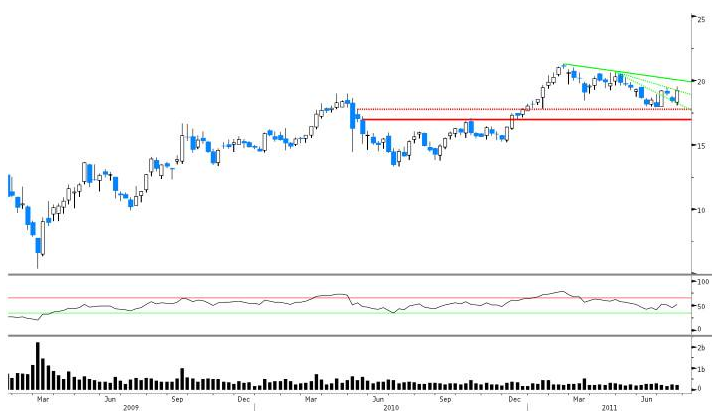 Tags: $GE