OK, if that doesn't win Best Italian Debt Crisis Headline at the Bloggies this year I give up.
Anyway, the situation with Italy's banks is not so good.  The Chart of the Day I've put together looks at the FTSE Italia All-Share Financials Index (data via Bloomberg):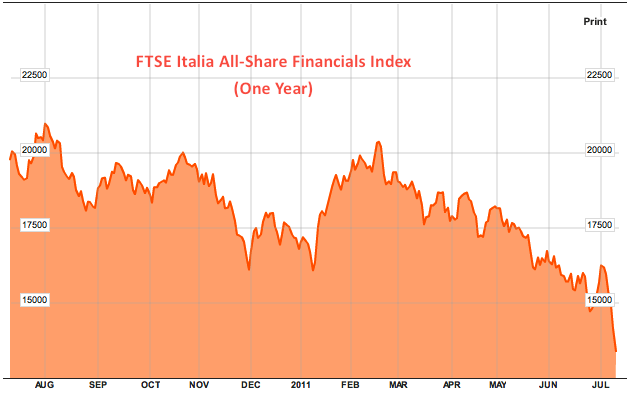 You can see the action in the last week accelerating the downtrend that began at the beginning of the year.  The whole thing looks and feels awfully Lehman-like.  Here's the Wall Street Journal with some color from European trading this morning…
Intesa Sanpaolo SpA, Italy's largest bank by assets, fell 7.7%, and UniCredit SpA, the second-largest lender, lost 6.3%. Other bank shares posted similar declines. Intesa and UniCredit held a total of €228 billion ($325 billion) of government debt as of the end of April.

Italy's two largest banks have lost nearly 30% of their market value over the past three months, frustrating efforts to restore investor confidence through capital increases.
The risk here is contagion, but everyone says that so let me assign some actual numbers to what we're talking about.  The only two Euro Zone nations that can hold everything together at this point are Germany and France.  But Fritz and Pierre are not entirely immune, you see.  Their own domestic banks have made Italian acquisitions in the lending sector and have made tons of loans directly into Italy and the other PIIGS countries.
According to the Bank of International Settlements (via WSJ), French and German banks have €689 billion worth of exposure to Italian government and corporate debt, and another €801 billion of exposure to Spain, Ireland, Greece and Portgual.
If any of this sounds eerily familiar, that's because it is a very similar situation to what we faced when it turned out that all our banks and insurance companies were basically arrayed as a circular firing squad; Goldman shooting at AIG, Citi shooting at, well Citi, etc.
Many of us have looked at the Euro Debt Crisis as either a far-off event or a sideshow as we luxuriated in waves of Fed Capital floating our own stocks ever higher.  But I bet you're paying attention now.