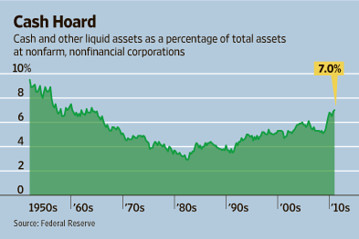 Here's an update on that corporate cash hoard currently being, well, hoarded at nonfinancial companies across America…
From Real Time Economics:
$1.9 trillion: Corporate America's cash

U.S. companies' cash hoard keeps getting bigger, a trend both good and troubling.

After hitting new highs in five of the last six quarters, nonfinancial corporations' cash and other liquid assets reached $1.9 trillion at the end of 2010, according to the Federal Reserve. That's 7% of all their assets, the highest level since 1963.
In the Hip Hop world, we like to say "Scared Money don't make no money".  And by "we", I mean they like to say that and I like to nod my head – 34 years old, two kids and still blasting rap music like a giant retarded 10-year-old.  But I digress…
Anyway, that doesn't change the fact that this money is scared money.  In fact, RTE mentions that the only real sense in which it is being deployed is in share repurchases.  Last quarter, companies bought back $86 billion of their own stock, a three-year high.
While this does boost earnings, it does little for anything else.  No hiring or innovation results from it – just the "congrats on a great quarter" kudos from sell side analysts on the next conference call.
More investment is needed in startup ventures, new products, new companies, new lines of business.  That is where the jobs ultimately come from.  The research says NEW business is the biggest driver of jobs, not SMALL business as many mistakenly believe.  With almost $2 trillion in "scared money" cash being hoarded, we may be waiting awhile on that.
Source:
Number of the Week: Companies' Cash Hoard Grows (Real Time Economics)