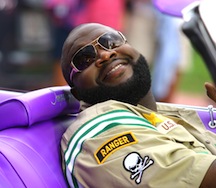 Miami's "Bawse" MC Rick Ross may have gone a tad over the top for his 35th birthday party the other night…
From The Well Versed:
Rick Ross celebrated his 35th birthday in style over the weekend. With Diddy and Pharrell by his side, the Bawse proceeded to blow money fast at the King of Diamonds strip club in South Beach. And when we say "blowing money fast," we mean it. How about $1 million in loot spent? This is what you call making it rain beyond recognition. But wait, aren't we in a struggling economy where the unemployment rate is still ridiculously high?
Yes, GDP is in expansionary territory and consumers are feelin' groovy once again – but U6 under-employment is still absurdly high in the mid-teens to be carrying on like that, baller or no.
What else could Mr. Ross and friends done with a million bucks?  Click below for a few ideas.
Source:
10 Things Diddy, Pharrell & Rick Ross Could Have Spent A Million On Instead Of Strippers (The Well Versed)