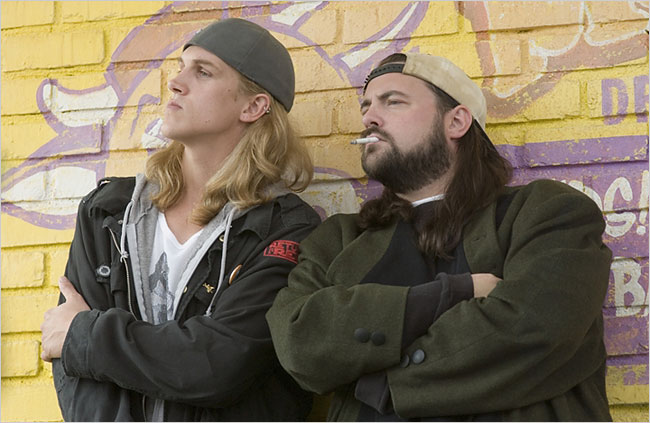 The market's closed today so give me a break…
Today's most interesting story is the drama unfolding right now on Twitter between director Kevin Smith (Chasing Amy, Clerks) and Southwest Airlines ($LUV).
Kevin boarded a plane and minutes before takeoff, was told that he needed to buy an extra seat for the comfort of the two passengers on either side of him.  He updated the story in real-time for his 1.6 million Twitter followers and they've erupted at the airline.
From the Times Online:
His Twitter torrent sparked support from fans and prompted Southwest to issue an apology via its Twitter feed, as well as issuing Smith with a $100 voucher.

The ensuing debate led to a temporary failure of Southwest's servers due to the weight of traffic, about which Smith commented on Twitter: "Wow. @southwestair servers going down because of traffic from kevinsmith fiasco." They'll blame THAT on my width, too."
Only in a country this fat and slovenly would we see such an outpouring of support for someone who eats the equivalent of one Haitian each day.
Hilarious.
Source:
Twitter Storm Takes Off Over Southwest Airlines and "Too Fat" Kevin Smith  (Times Online)